Suzuki Jimny
The Suzuki Jimny is the perfect example of the George Eliot quote "Don't judge a book by its cover." To the untrained eye, this tiny SUV may look like a Kei car trying its best to be a Mercedes G-Wagon. In actual fact, the truth isn't too far away. The Jimny is one of the most capable off-road SUVs currently on sale, which is why it's been chosen as our car of the month. Join us as we take a deep dive into this affordable off-road machine!
Specifications of The Jimny
This cute and comfortable SUV is powered by a Dual-Overhead cam inline-four engine, putting out 101 horsepower and 96 lb-ft of torque. It may not seem like an impressive power figure, but for a tiny 2-door SUV like the Jimny, these figures are more than enough.
The engine comes with two transmission options. One is an old-school 5-speed manual, while the other is a 4-speed automatic. Thanks in part to the conservative powertrain options, the Jimny is one of the most efficient off-roaders out on the market. The combined fuel economy rating of 26 MPG makes this an ideal vehicle to battle the traffic at Accra and Kumasi. Suzuki claims a 0 – 60 time of 11.8 seconds and a top speed of 90 mph. However, speed is not what the Jimny is made for. Instead, it is made to tackle the rough terrain off the beaten path.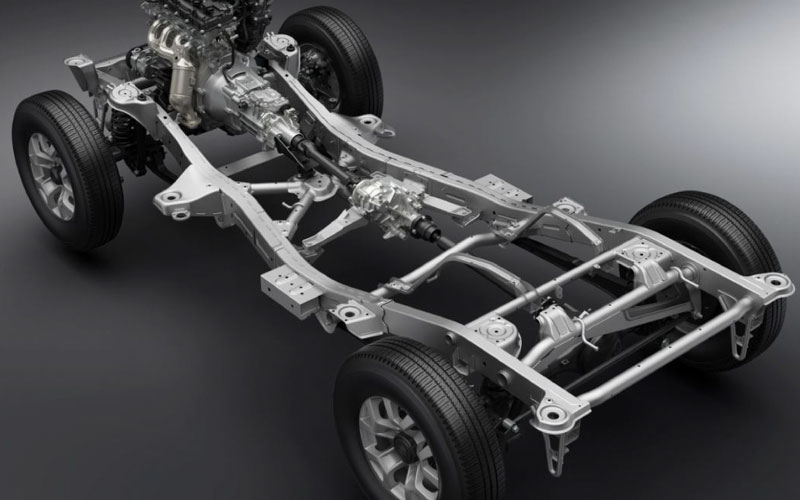 Spacious Interior
The Jimny is built on top of a ladder frame chassis, which makes it awesome for off-roading. On the inside, the Jimny can seat five people, however it's quite cramped in the rear.
Up front, the Jimny has some neat technological features. Up first is automatic air conditioning which keeps the interior nice and cold, a touch screen integrated with Bluetooth, Apple CarPlay and Android Auto. Automatic LED headlights that brighten the path ahead no matter the terrain. Overall, the interior has a tough and durable look that matches the character of the Jimny.
If you are looking for a funky, affordable yet capable off-roader, it's hard to go wrong with the Jimny. Additionally, the Jimny offers a mix of on-road and off-road performance that makes it suitable for the roads of Ghana. Can you guess what Our Car Of The Month for October will be? Well, you will have to join us next month to find out. Until then, check out our blog and social media channels for more automotive content.