2022 Italian Grand Prix : FP 1 & FP 2
For the 16th round of the 2022 Formula 1 World Championship, the paddock is Italy bound. This weekend's events will be hosted by the historic Autodromo Nazionale Monza, which celebrated its centennial this year. Join us this weekend to find out during the first and second practice sessions of the 2022 Italian Grand Prix!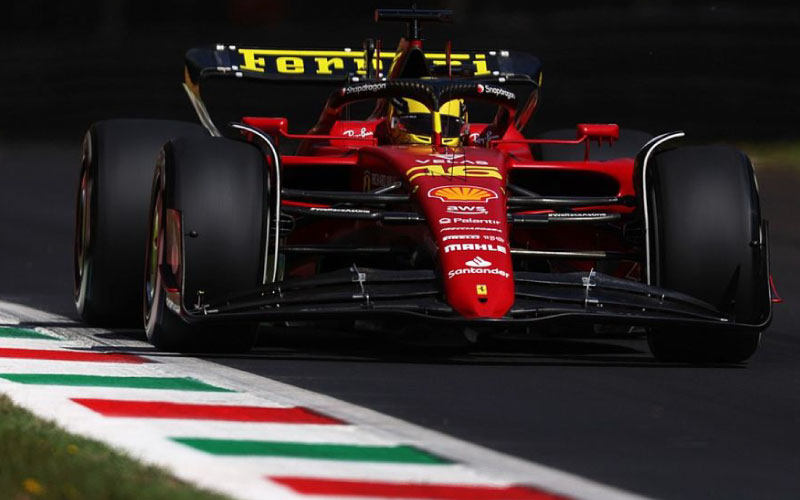 Free Practice 1
Ferrari looked on form at their home Grand Prix, as Charles Leclerc and Carlos Sainz claimed the top two positions on the podium. Only 0.067 of a second separated the two Scuderia drivers. This weekend the Ferrari drivers and some parts of their cars were sporting Giallo Modena (That's yellow for all you non-Italian folks) as they celebrated 75 years of F1 racing excellence.
Another driver clad in a different helmet than usual was Estaban Ocon. His new helmet is a tribute to Michael Schumacher. Two drivers made one-off FP1 appearances today. They were the former Formula-E champion, Nyck de Vries, in the Aston Martin and Antonio Giovinazzi in the Haas.
It was reported earlier that several drivers would be taking grid penalties due to taking on new powertrain components. Verstappen, Perez, Hamilton, Bottas, and Sainz make up this list. In Addition, Yuki Tsunoda will also be starting from the back of the grid because of accumulating five penalties from the FIA.
The quickest FP1 times were as follows:
Charles Leclerc 1:22.410
Carlos Sainz 1:22.487
George Russell 1:22.689
Free Practice 2
Ferrari carried their momentum into the second practice session, as Sainz led from the current championship leader and his teammate. However, Verstappen did not have the best session, as he locked up his fresh soft tires going into Turn 1. Mick Schumacher was in the same boat as his Haas and suffered a technical failure which brought out the red flag.
Once again, Lando Norris looked impressive as he commandeered his McLaren into P4. His teammate Daniel Ricciardo could only manage eleventh place on the timing sheets. Several drivers, including Carlos Sainz and Alex Albon, ran wide at various points of the track and had to take trips through the gravel traps and escape roads to get safely back on the tarmac.
Carlos Sainz 1:21.664
Max Verstappen 1:21.807
Charles Leclerc 1:21.857
With Monza being such a high-speed circuit, taking pole position tomorrow will aid massively in achieving the race victory. Join us tomorrow to know who came out on top. Until then, check out some more F1 content on our website and social media pages!